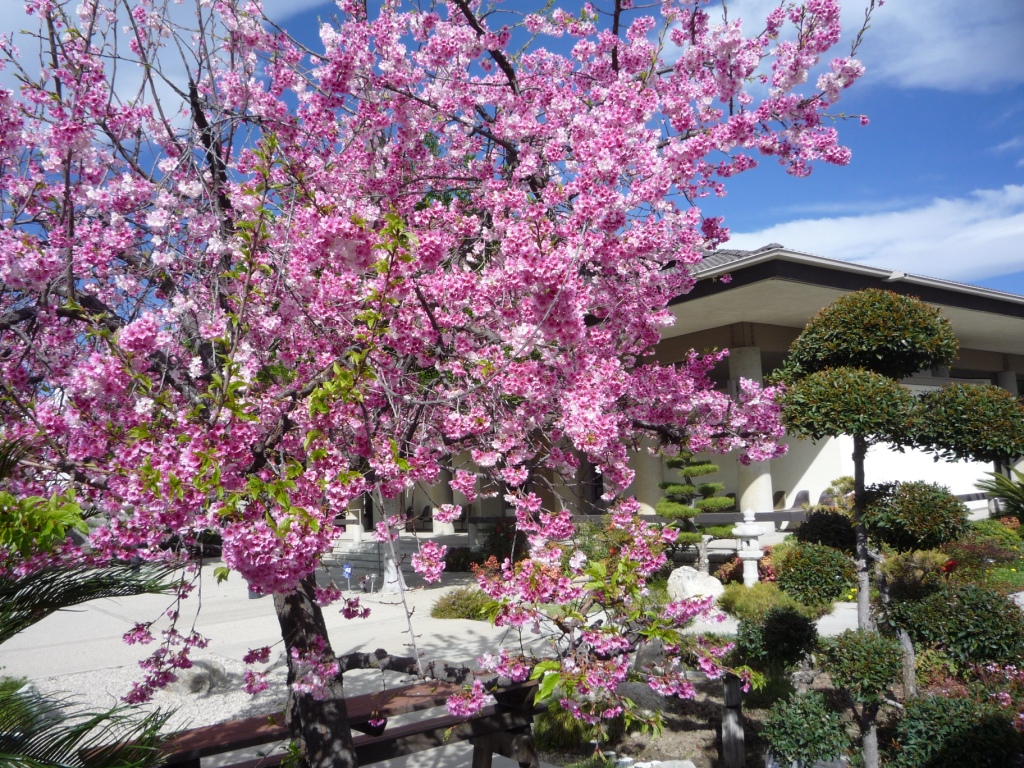 [mappress mapid="3"]
Please call for an appointment if you wish to visit the temple outside of Sunday service hours. Contact us at SFVHBT                                                                                                                               9450 Remick Ave.                                                                                                             Pacoima, CA 91331 T: 818-899-4030         F: 818-899-0447                                                                                                                                                                                                                                   e-mail: 
sfvhbt@sfvhbt.org
Welcome to San Fernando Valley Hongwanji Buddhist Temple (SFVHBT). There are services, activities, and events for people of all ages. The best way to learn about Buddhism and this temple is to "come and see" (ehi-passika in Pali). The idea is not to accept the teachings through mere belief (nor blind faith), but to understand the teachings by experiencing them for yourself:
 It is always a question of knowing and seeing, and not that of believing. The teaching of the Buddha is qualified as ehi-passika, inviting you to 'come and see', but not to come and believe.
— Walpola Rahula, What the Buddha Taught
 The core of temple life is found in its services and in learning the Buddhist teachings. This is the one aspect that all temple groups share in common, without which the temple would cease to exist. SFVHBT services include regular Sunday services, special observances, and monthly memorial services on the first Sunday of the month. For adults, there are discussion groups after regular Sunday services as well as study classes on Saturday morning. For children, there is Dharma School.
Religious life is enhanced and enriched by activities and events that encourage sangha (Skt., community) members to get to know one another. Families will be interested to know that besides Dharma School, SFVHBT has groups such as Sangha Teens for junior high students, Jr. YBA for high school students, and for adults, H.O.T – Hanging Out Together. Women may also want to support the temple through the Buddhist Women's Association. Besides organizations, the temple-wide toban (Jpn., taking a turn) system also enables all sangha members to interact as a group, through service to the temple.
Where do I start?
The intent of this website is to encourage you to "come and see" this temple, to experience temple life for yourself. If you are new to Buddhism, "Part 1: A Glimpse of Buddhism" and "Part 3: Services and Observances" may be of particular interest to you. If you want information specific to this temple, you may want to read "Part 2: San Fernando Valley Hongwanji Buddhist Temple."
"Part 1: A Glimpse of Buddhism" first introduces the teachings of Shakyamuni Buddha, the dharma which forms the basis of all branches, schools, or sects of Buddhism. It then introduces Jodo Shinshu (Shin Buddhism), the teachings particular to SFVHBT and other Hongwanji temples. It is not possible to explain Buddhism in one or two pages, so you are encouraged to participate in discussion sessions or study classes, or to peruse the books listed as suggested reading, and of course, talk to the resident minister.
"Part 2: San Fernando Valley Hongwanji Buddhist Temple" gives the history of the temple and describes its organizational structure and its context within the larger hierarchy of Hongwanji temples. It also introduces the organizations and activities associated with SFVHBT.
"Part 3: Services and Observances" lists the various services held at SFVHBT. It also summarizes the special services that Jodo Shin Buddhists traditionally observe.
This website is but a menu of what is offered at SFVHBT. We cannot know what sushi or spaghetti is like unless we taste it for ourselves. Please "come and see" and experience the dharma for yourself.
Continue to A Glimpse of Buddhism